Originally published in Rivertown Magazine February 2013.
By Kim Cross, Nyack Center Executive Director
A flag heralding "The Winter Farmers Market, Thursdays 8-2" flaps in the wind outside Nyack Center. Inside, sunlight streams through the gold paned windows and illuminates apples, boxes of rainbow chard, picture perfect pies, cheese, wine, hummus, coolers of meat, eggs and ice cream. The smells are of stacks of fresh bread, barrels of pickles, and fresh vegetables. Farmers at their stands greet their regular customers and the first time visitor with a smile and stories about their wares. A local artist serves as "artist in residence" with sketches of the village memorialized in note cards. A nutritionist is on hand to advise and serve healthy treats. Throughout the market, neighbors and friends chat and greet one another with hugs and handshakes. People have a coffee and settle in for a longer talk at the market tables as the bustle of the community swirls around the room.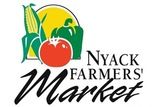 Yes, Nyack now has a Winter Farmer's Market! A pipe dream of Farmer's Market Project Manager, Carlo Pelligrini and mine for many years is finally a reality! The Nyack Winter Farmers Market is now indoors at Nyack Center. Yes, we have fresh produce (grown in greenhouses on Long Island). Every Thursday, 8am – 2pm. Street parking is free until 11:00am, and the municipal lot at Artopee and Cedar is free during Market hours.  Nyack Center is located at 58 Depew Avenue (at South Broadway).
The new indoor market will pick up where the outdoor Farmers' Market left off and will continue every Thursday from 8:00 am – 2:00 pm during the winter months through May 2, 2013.  The outdoor market reopens on May 9, 2013.
The vendors who will sell their wares this winter are: The Orchards of Concklin; fruit, produce, eggs, pies, honey, cookies, Taiim Falafel Shack; hummus, cucumber salad, babaghanouj, baklava, Middle Eastern specialties, Doc Pickle; fresh pickles, sauerkraut, olives, marinated mushrooms/peppers, Panzarella Foods; breads, fresh mozzarella, crab cakes, sauces, Dines Farms; free-range poultry, eggs, bacon, chicken sausage, Dish Catering; breakfast burritos, house-made ice cream, prepared foods, Mostly Myrtle's; gluten-free biscotti, muffins, brownies, coffee, Bill Batson Arts; artist-in-residence, greeting cards, Pie Lady & Son; pies, cookies, Meredith Country Bakery; fresh baked goods, Hummingbird Ranch; honey & related products, maple syrup, beeswax skin cream & lip balm, beeswax candles, Kiernan Farm; grass-fed beef and pork, Ronnybrook Dairy  & Cascade Mountain Winery; cheese, milk, and award winning wines and Gajeski Produce; a large variety of  produce. Rebecca Meyerson of Simply Healthy Living is on hand for nutrition advice and healthy food samples. Sponsorship is generously provided by Green Mountain Energy and Green Meadow Waldorf School; both also sponsor the outdoor market.
Similarly to the summer months, live music will be featured with plans in the works for short mid-day talks on topics of local interest. Some of our smallest community members from Headstart and Riverview Nursery School have come by for a visit.
Nyack Center is excited to partner with Nyack Chamber of Commerce and offer this new resource to the Nyack community. The Winter Market will be a focal point for families who value healthy lifestyles and hopefully will be a bright spot for our community during the cold winter months.
"We're starting a new tradition in Nyack with the Winter Market and we expect it will enjoy a similarly long and fruitful life in the heart of our special Village," says Scott Baird, president of the Chamber. "We also expect to see the same kind of crowd – lots of Nyack natives, but also friends and neighbors from far and wide who love good food, fresh local products and the special homemade delicacies you can't find in a supermarket."
Whether you are doing your marketing for the week, picking up special items or coming by for lunch with a friend we look forward to seeing you next Thursday at Nyack Center!
For more information go to nyackchamber.org or nyackcenter.org