Nyack Opens Second Annual Winter Farmers' Market  
Chamber of Commerce and Nyack Center Partner on Joint Venture
Market Opens Thursday, December 5 at 8:00 am
Entertainment from 11:30 to 1:30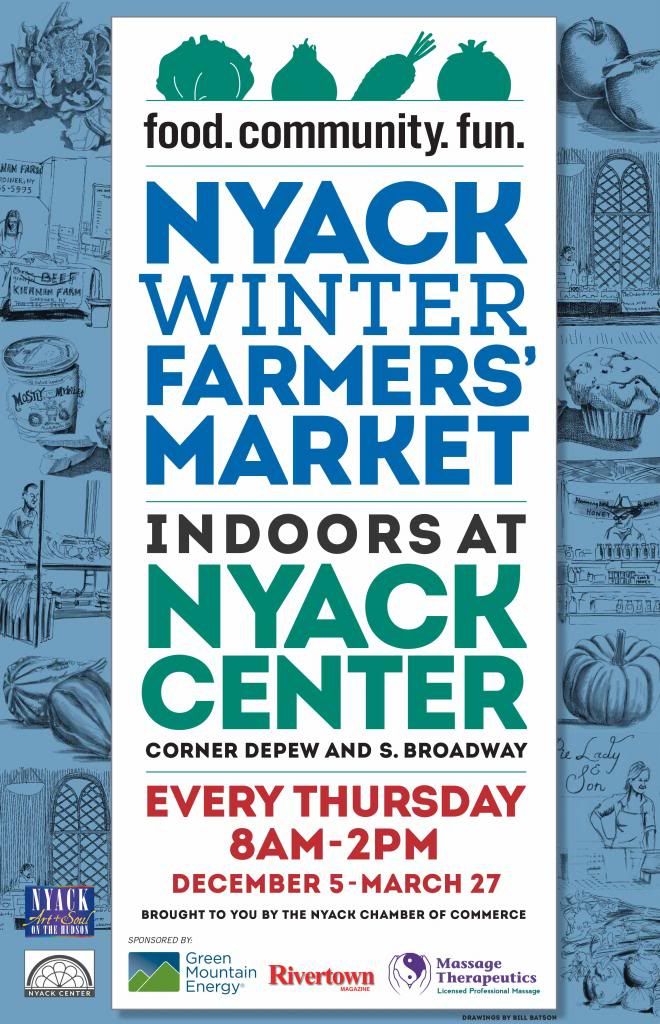 Devotees of fresh food and produce, baked delicacies, savory spreads and sweet "somethings" will not have to hibernate this winter. All are welcome to indulge their love of good things at Nyack's second annual indoor Winter Farmers' Market, set to open at 8:00 am on Thursday,
December 5, indoors at the Nyack Center.
Nyack Mayor Jen White, Chamber President Scott Baird, Market Co-Directors Carlo Pellegrini and David Collins, Kim Cross of Nyack Center and Market Manager Pam Moskowitz will be on hand for the 8:00 am ribbon-cutting. Live entertainment will be provided by jazz and blues legend Sam Waymon from 11:30 am to 1:30 pm.
Nyack Center is located at 58 Depew Avenue (at South Broadway). Free parking will be available during Market hours in the Artopee Way lot.
The indoor market will pick up where the outdoor Farmers' Market leaves off on the day before Thanksgiving, and will continue every Thursday (with the exception of December 26, the day after Christmas) from 8:00 am to 2:00 pm during the winter months through March 27, 2014. The outdoor market reopens on April 3, 2014.
Building on the more than 15 years of success enjoyed by the Nyack Farmers' Market outdoors, the indoor market is a partnership between the Nyack Chamber of Commerce and the Nyack Center. Sponsorship is generously provided by Green Mountain Energy, Rivertown Magazine and Massage Therapeutics. The Market also acknowledges dedicated volunteers Julie Colt, Abbie Huff and Bonnie Timm.
"We're excited to continue to offer this valuable resource to the Nyack community," said Kim Cross, Executive Director, Nyack Center. "The Winter Market is a focal point for families who value healthy lifestyles, and a bright spot during the cold winter months."
Items on sale will include fresh farm produce, baked goods, cheese, pasta, free-range eggs and chicken, pork and grass-fed beef, pickles, sauerkraut and olives, honey, syrups and jams, milk, yogurt, ice cream, herbs, tea and Middle Eastern specialties.
Outdoor Market regulars will recognize many of their favorite vendors at the indoor venue, including Central Bakery, DOC Pickles, Gajeski Produce, Hummingbird Ranch, Kiernan Farm, Meredith's Bread/Horn of Plenty, Mostly Myrtle's, Northern Farmhouse Pasta, Orchards of Concklin, Peg's Eggs/Hillery Farm, Pie Lady & Son Ronneybrook Farm, Taiim Falafel Shack, Teagevity and X-calibur Knife and Scissors Sharpening. Vendors new to the Market include Pika's Farm Table and Rockland Farm Alliance.
The Market's artist-in-residence Bill Batson also will be coming indoors for the winter — showcasing his work as chronicler of Nyack people and places and author of Nyack Sketch Log, a column that presents a weekly sketch and short essay about Nyack on NyackNewsAndViews.com.
"We invited Bill to be our artist-in-residence because of his commitment to recording the history of Nyack. We think the Farmer's Market has a story to tell about the vibrant and diverse commercial life of the village," said Chamber of Commerce President Scott Baird.
New to the Winter Market this year will be a series of regular weekly classes, including early childhood music instruction with Jeffrey Friedberg (http://www.bossyfrog.com/pages/classes), art classes offered by the Nyack Art Collective, and cooking classes led by local restaurant chefs.
"We're building a new tradition in Nyack with the Winter Market, and we expect it will enjoy a long and fruitful life in the heart of our special Village," added Baird. "We also expect to see the same kind of crowd — lots of Nyack natives, but also friends and neighbors from far and wide who love good food, fresh local products and the special home-made delicacies you can't find in any supermarket."
Click here for a list of vendors.
View a slideshow from last year's first season of the Nyack Winter Farmers' Market:
Photo credit: Dr. Arnold Roufa