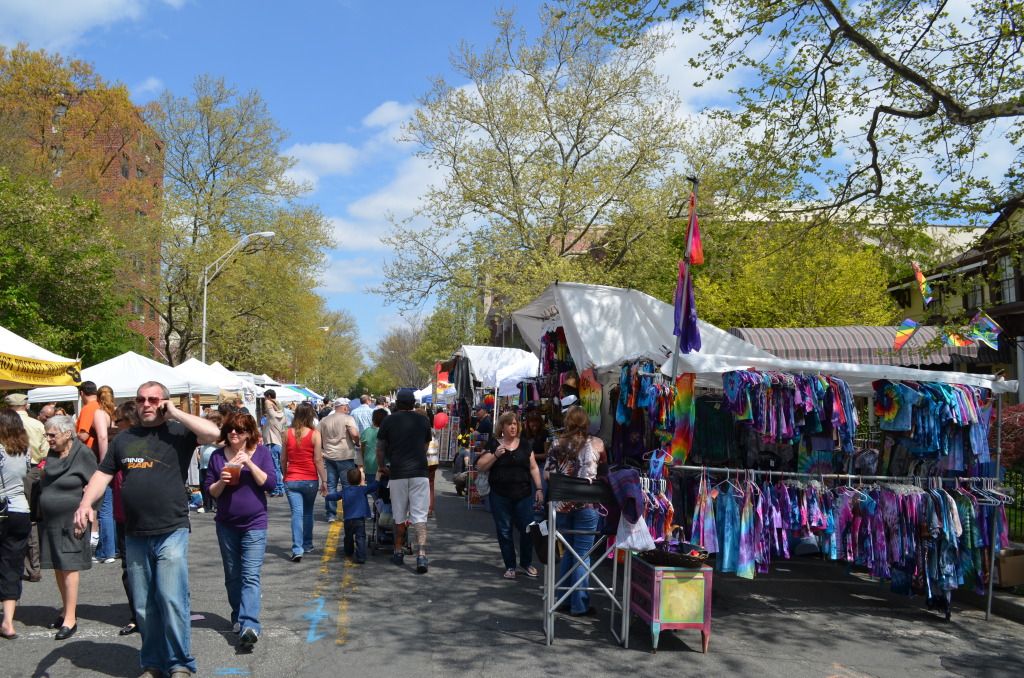 The snow piles have finally melted and winter is officially over in Nyack as the Village prepares for the Nyack Chamber's 28th annual SpringFest street fair, set for Sunday, April 13th from 10:00 am to 5:00 pm — rain or shine.  Admission is free.
Families and fun-seekers shouldn't miss this unique event, featuring over 300 vendors offering fine crafts, jewelry, art, photography, collectibles, antiques, quality handmade crafts, unique gifts and much more. Not to mention the great shops and restaurants in Nyack that will be participating with special offers.
Lining both Main Street and Broadway in the heart of Nyack, the fair will also feature live entertainment, live music, street performers — plus great food, outdoor dining and special offerings from Nyack merchants.
In keeping with Nyack's cultural roots and vibrant arts community, this year's fair will include live music onstage in the Main Street parking lot provided by acclaimed local talent and produced by Nyack's own Anjel Blue Rehearsal Studios. The entertainment begins at 11:00 am with Impossible Colors, and continues until 5:00 pm with Curbside Hustle, Schwizz, Danielle Sheri, The Year Off and the NY Hitmen.
While grown-ups groove to the music, the fair will offer plenty for the younger set, with kids' games and bouncy houses in the Main Street parking lot.
Special offerings from local merchants, service providers and not-for-profits will add zest, as well as interesting opportunities for practical shoppers. Chamber members set to offer booths at the fair include Advance Chiropractics, Allstate, Bangkok City restaurant, Caminez Chiropractic, Casa del Sol restaurant, Chocolaterie, De Carlo Chiropratic, Doc Pickle, Elmwood Playhouse, Great Dames Boutique, Hickory Dickory Dock, Tibetan Home of Hope, King & I restaurant, Maria Luisa Boutique, Nyack Library, Olive's, Pour House, RevoluSun, Rockland Farm Alliance, Saffron Trading, Teagevity and Trendsetters boutique.
"SpringFest is a great tradition in Nyack," says Scott Baird, President of the Nyack Chamber. "For 28 years, this fair has marked the beginning of the warm season's vibrant, outdoor cultural life in Nyack. It underscores our key message: Nyack is a great place to live, work, do business — and play."
Business owners who want to rent a booth should contact Woodwill Corporation at 631-234-4183 or www.woodwill.com.  For information about Chamber activities and about joining the Nyack Chamber, go to http://nyackchamber.org/join-the-chamber/ or contact the Chamber at 845-353-2221.