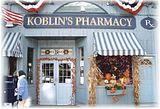 Back in 1888 when horse-drawn carriages vied for "parking" in Nyack's bustling business district ,  a pharmacy opened in the heart of town at 96 Main Street.  That's where Koblin's Pharmacy stands today.  In 1934, David Koblin purchased the pharmacy and the family has continued to operate it for more than three-quarters of a century.
Jerry Koblin took over the business in 1967.  And if you walk into Koblins today, you will see Jerry presiding over a brisk business.  People are in the store buying everything from food to  school supplies, sun screen to cosmetics, office supplies, and oh yes — medicine!!  That diversity of product is one thing Jerry says has helped him to thrive.
Another of the keys to Jerry's success is his concern for the appearance of his building and business.  Koblin's window displays are renowned!  Jerry remembers a design they did one year that featured 144 bottles of aspirin.  These days though, you'll typically find a unique and inviting seasonal display, carefully crafted by his talented wife Patrina.  Patrina's windows speak volumes about the Koblin's brand:  More than just a pharmacy,  Koblin's is really a "main street- buy anything-store" from the good old days.