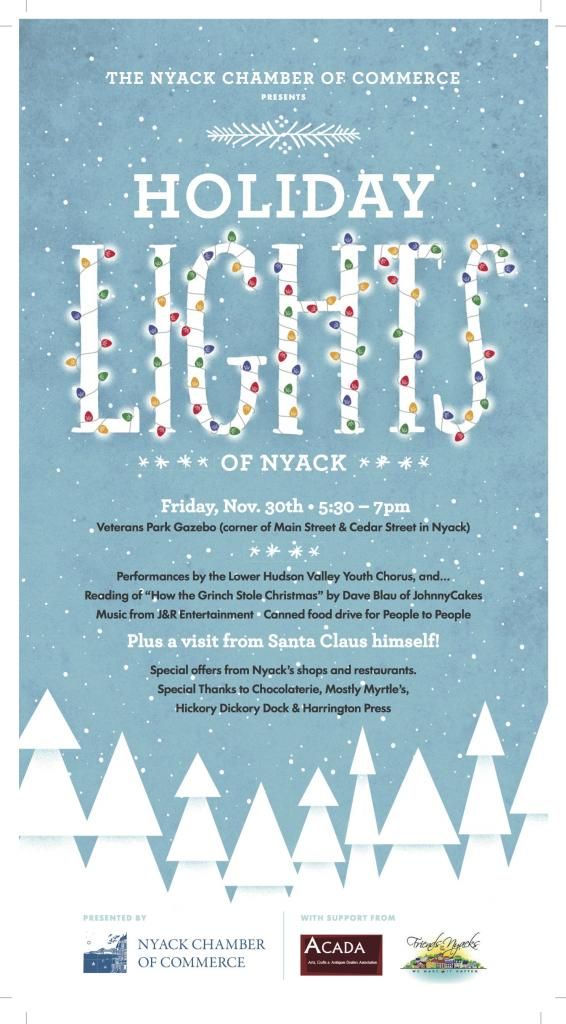 For information:
Scott Baird, President
845-821-4850
scott.baird@randcommercial.com
 Nancy Phillips, Vice President
845-727-7730
nancysailorphillips@yahoo.com
FOR IMMEDIATE RELEASE  
Nyack Chamber Welcomes the Season with Holiday Lights Event
Live Caroling, Free Refreshments, Tree Lighting, Santa Visit, Special Holiday Story Reading
Local Businesses Contribute and Offer Special Deals
Nyack, New York, November 26, 2012 – The Nyack Chamber of Commerce will host its annual Holiday Lights of Nyack celebration on Friday, November 30 from 5:30 to 7:00 pm at the Veterans Park Gazebo on Main and Cedar Streets in the center of Nyack.  Mayor Jen Laird-White will serve as master of ceremonies. Children will be invited to help trim the Christmas tree, which will be lit toward the end of the program.
Holiday tunes will set the mood for the festivities, which will feature a live performance of holiday carols by the Lower Hudson Valley Youth Chorus under the direction of Jared Rosenblum. Free hot chocolate will be served by Nyack's chocolate emporium Chocolaterie, along with free hot cider provided by Mostly Myrtle's, a vendor at the Nyack Farmers' Market.
Adding to the fun and excitement, Nyack actor and JohnnyCakes host Dave Blau will perform a reading of the Dr. Seuss classic "How the Grinch Stole Christmas," and Santa will make a special appearance aboard the Highland Hose Company's antique fire truck.
"There's no better way to get into the holiday spirit than with live caroling, hot chocolate and cider, holiday stories, Santa and holiday lights," said Scott Baird, President of the Nyack Chamber of Commerce. "Our local businesses are spreading the good cheer by contributing resources and special offers to diners and shoppers for this year's event."
Nyack's own Hickory Dickory Dock contributed lights for the holiday tree, and many of Nyack's merchants are participating by offering special deals in their retail shops, restaurants and bars.
"In this season of giving, we haven't forgotten those who are less fortunate and suffering ? especially our friends and neighbors hard-hit by hurricane Sandy," added Baird. "People to People will be on hand to collect nonperishable food items, so we encourage everyone to bring what they can."
###